Creekside Vacation Lodge & Cabin Rentals - Bull Lake Area
Set against the backdrop of the Cabinet Mountain Wilderness on more than a square mile of lake front and headwater stream our Custom Built Lodge and 4 guest cabins offer some of the finest accommodations to be found in Northwest Montana.
All are modern, spacious, and privately situated on the water with gorgeous views of the high peaks and creek. Full size covered decks on each provide comfortable relaxation in a stunningly beautiful environment. All have fully equipped kitchens, full baths, wood and /or propane stoves, propane heaters, power, smart TV's, BBQ gas grills etc...in short everything that you will need for your stay with us. They are very "spouse" friendly. Just bring food and personal items.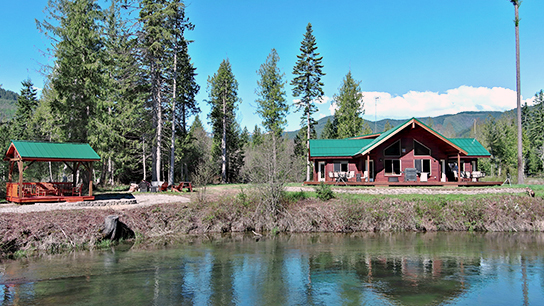 Our lodge and cabins are perfect for every one from the fly fisherman looking for a quality place of solitude and relaxation to a quiet couples get away. Plan your small corporate retreat or reunion around a Montana outdoor adventure, or bring your friends and find a bit of something for all.

Hunters will find fine accommodations at affordable prices in an outdoor wilderness paradise.
With private access to more than a square mile of prime habitat that borders millions more acres of National Forest and Wilderness there is no better place in this part of MT to pursue your trophy. Seasons run early spring for Bear and then mid to late fall for Whitetail and Elk.
Whether you will be fishing with us or are just looking for a quiet comfortable and relaxing stay away from it all we're happy to help you arrange a great trip. If you're into the outdoors you'll find plenty to love and do here.
You'll have access to Lake Creek and Bull Lake right out your front door. Bring your favorite watercraft and spend the day floating up the creek into the lake and back.
Kayaks, Paddleboards and Canoe are at the dock for guest use. Relax on the deck or take a hike!
You may see Bald Eagles, Ospreys, Moose, Bear, Deer, Elk, Coyotes, Wolves, Owls, Beavers, Minks, Otters, Herons or many number of wild critters.
Fishing is great in the lake all year and the creek is fantastic fishing spring, summer and fall. Access to the lake is easy. You can tie up at the dock at cabin#1 or grab a kayak, canoe or raft from the boat shack. Spend the day fishing the lake and when you're done float back home.
There are campfire pits for your enjoyment any time of the year. And there's tons of fire wood around if you want to pile some up! Please don't burn in dry hot weather!
Drive time from the lodge and cabins to the Kootenai and the Fly Shop is 15 - 20 minutes.
Of course for those that really want to get away from it all you never have to get back in your car once you are here if that is what you prefer.
The small and friendly town of Troy, Montana (Pop. 965) is 20 minutes away and offers all of amenities that one could need. Groceries (open 6am till 11 pm), Gas (24 hrs), Restaurants, Taverns, and even a small movie theater. Libby, Montana is 30 minutes away. Laundry facilities are also available for guest use. If you are staying or fishing with us here is a list of gear and items that we suggest you bring. For health and safety reasons all of our guest cabins and common areas are smoke free environments.